New motion labs
Sustainable start-up New Motion Labs grows rapidly thanks to Exeter support.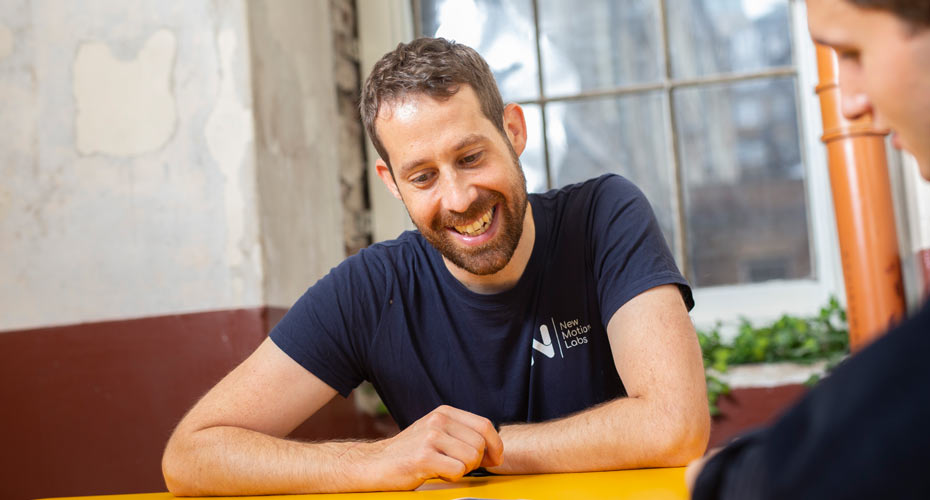 Enduo reduces friction losses in roller chain drives by 50% and extends their lifespan by 3.5 times, effectively minimising wear and tear.
New Motion Labs is introducing Enduo to various industries, including cycling, e-bikes, and manufacturing, with plans to expand into new markets with over 5000 applications globally.
Thanks to the support, funding advice, and connections provided by the Business Acceleration team, New Motion Labs has grown its team and accelerated its business. They aim to sustain their growth, license their technology to more organisations, and venture into new sectors. 
New Motion Labs' Enduo: Efficient and Sustainable Roller Chains
New Motion Labs designs and manufactures efficient and sustainable roller chains. Their product, Enduo, aims to reduce the friction and wear of roller chains in industrial and commercial applications. Designed by Marcel Fowler, Founder and Director of Engineering, Enduo decreases efficiency losses by 50% and increases lifetime by 3.5 times. New Motion Labs are focused on bringing Enduo to three applications: cycling, E-bikes and manufacturing industries. 
Connections to accelerate growth 
Starting in London in 2017, Marcel was introduced to SETsquared Exeter shortly after relocating to Devon.  Here, he received advice and support from their Entrepreneur in Residence, Luke Lang, Co-Founder of the investment platform CrowdCube.   
""Luke brings his own experience and expertise to New Motion Labs - challenging, guiding and advising us as we grow our business. Having someone who has been through this process has been very beneficial",". 
Marcel Fowler
Founder of New Motion Labs
New Motion Labs initially faced the daunting task of expanding its team upon joining the SETsquared Accelerator. However, their introduction to advisor Steven Senior, thanks to SETsquared Exeter, proved to be a turning point, as he subsequently assumed the CEO role. Under his leadership, the team has grown from four members to 14, with aspirations to increase it to 30. 
A look to the future 
New Motion Labs has successfully secured a funding round of £750k from Green Angel syndicates and is also planning to raise an additional £2 million in 2023. With this funding, they aim to continue their business growth by licensing their technology to more organisations and expanding into new sectors. 
"There are over 5,000 different applications for roller chains worldwide, from escalators to mining, factories to agriculture. We want to explore these markets globally", said Marcel.